Readers of my articles posted here may remember my observations on the protean US dressage show scene. So much has changed in the show market in the last five years. It seems that most readers have agreed with these observations.
Well, as the saying goes, 'you ain't seen nothin' yet'
The effects of the last few years have easily been outdone by the current Covid 19 pandemic in just six months. Currently, the entire show world has been upended not only nationally but internationally as well. All USEF shows were canceled between April and June and have begun to re-emerge only as permitted by local health authorities. For example, while a show may proceed in Pocatello, Idaho, it may not in Los Angeles. The protocol and the comfort for riders attending any  competitions have become a matter of personal judgement depending on the assessment for risk of infection.
While many potential competitors elect to stay close to home and work their horses, 175 horses are entered in the USA Festival of Champions at Lamplight Equestrian Center outside of Chicago this August. Reactions to our national health crisis is varied. The show world has followed that trend. USEF policy will now provide the rules for competition in the pandemic. 
Here is what you may expect at a dressage competition between now and the end of 2020:
Before you do anything, USEF will insist that you sign a release of liability form.
This form will absolving USEF of any responsibility for adverse effects to your heath at the show.
You will have to mail this release in advance or give it to competition management upon arrival on the showgrounds.
Your temperature will be taken each day.
Usually upon arriving at eh show. If your temperature exceeds 99.5 degrees, you be required to leave the showgrounds.
EVERYONE is required to wear a mask, period.
The only exceptions are the riders when mounted during competition. 
No audiences for rides.
Crowds of well-wishers are to be avoided- don't bring your friends. Social distancing must be practiced. 
No socializing or barn parties.
 Any social functions at these shows are not permitted.
Competition officials are admonished to wear masks at all times.
Judges must be separated from scribes and a barrier between the two is encouraged. TDs will monitor these requirements and any lapses by judges and management will find mention in the show reports submitted to USEF. Sanctions may follow these reports.
This is our new reality in competing in all disciplines.
Most USEF competitions and nearly all the FEI shows have evaporated. While most of the USDF Regional Finals are scheduled to proceed, this could be subject to change.
The prognosis for next year is anyone's guess. It is clearly uncertain how much longer this reality will be with us. These changes are based on my personal experience officiating nationally during the last two months. Normally I would have officiated at least three competitions in Europe by August. Since foreign travel has been almost eliminated, this is no longer an option. Similarly, for our CDI, CPEDI calendar, the chance any judges attending from abroad will be difficult if not impossible. FEI panels here are going to look quite different for the near future.
Please keep these changes in mind as you contemplate showing this year. Our competition landscape has undergone quite a change.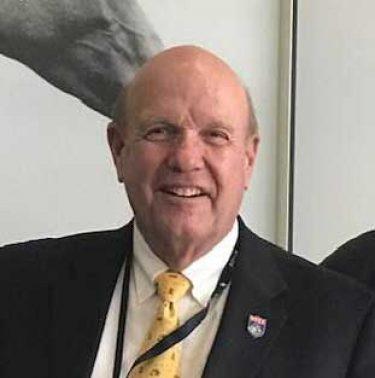 THE AUTHOR
David Schmutz : USEF 'S' & FEI 4* PARA DRESSAGE
David Schmutz was born and raised in Los Angeles, California.  He starting riding late in life, while in graduate school for his MBA.  He had the great opportunity to ride with a very prominent elderly attorney, who needed one of his three horse exercised.  During many mornings, they would meet at 6am where they would ride the trails of Griffith Park in Los Angeles.   After graduate school, David  purchased his own horse, a thoroughbred, and continued training on the Griffith park trails and local jumping arenas.   
While owning and managing  "The Paddock Riding Club" in Los Angeles, he graduated the USDF 'L' Program with distinction and then received his USEF Dressage 'r' certification.   
It was while working on his promotion to become a USEF 'R' Dressage judge, that USEF offered a clinic on judging Para Equestrian riders.  Through the help of international judges Inger Bryant and Anita Own, David obtained his IPEC (International Para Equestrian Committee) approval.  Not long after, the FEI also began approving these types of competitions, Dave received his FEI card as a 3* Para Judge.  He presently holds a 4* certification. 
David continues to enjoy his dual roles as judging in addition to clinics,  helping both able-bodied and para athletes achieve their best.