Did you know that FEI has just made online coaching possible on its website?
Now FEWI has begun to allow riders at the top levels to submit rides to the top selected 5* judges for evaluation and comments. Naturally, this works well if you are an elite rider, but what about the rest of the riding community?
Beginning last month, the website VirtualHorseSport.com has created the means for every rider to receive the same help from top FEI and USEF judges as competitions slowly begin to re-emerge from a three-month hiatus.
The pandemic has forced a virtual closure of the show world and many riders are faced with a dilemma: venture to the newly-opened shows and face possible risk of exposure or take the training and evaluation process online while remaining safely at home. The process of riding and training never pauses for the vast majority of competitors, and the website offers the same valuable input from top professionals. Opportunities today for riding in front of a judge are scarce. Through the website, knowledgeable input is now possible without the expense of travel, hotel costs and meals.
Riders can submit rides to this website, following the criteria for uniform evaluation listed in the directions. Select a judge listed on the posted list of professionals and receive the same scores and extensive comments as can be expected at competitions.
Both Dressage, Para Dressage and Western Dressage riders can benefit from this new system of virtual performance. In the era of the pandemic, new solutions exist to allow correct riding and training to succeed. Here is a welcome solution.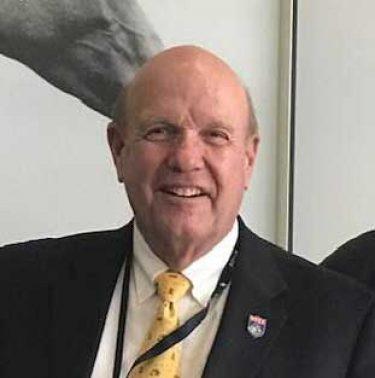 THE AUTHOR
David Schmutz : USEF 'S' & FEI 4* PARA DRESSAGE
David Schmutz was born and raised in Los Angeles, California.  He starting riding late in life, while in graduate school for his MBA.  He had the great opportunity to ride with a very prominent elderly attorney, who needed one of his three horse exercised.  During many mornings, they would meet at 6am where they would ride the trails of Griffith Park in Los Angeles.   After graduate school, David  purchased his own horse, a thoroughbred, and continued training on the Griffith park trails and local jumping arenas.   
While owning and managing  "The Paddock Riding Club" in Los Angeles, he graduated the USDF 'L' Program with distinction and then received his USEF Dressage 'r' certification.   
It was while working on his promotion to become a USEF 'R' Dressage judge, that USEF offered a clinic on judging Para Equestrian riders.  Through the help of international judges Inger Bryant and Anita Own, David obtained his IPEC (International Para Equestrian Committee) approval.  Not long after, the FEI also began approving these types of competitions, Dave received his FEI card as a 3* Para Judge.  He presently holds a 4* certification. 
David continues to enjoy his dual roles as judging in addition to clinics,  helping both able-bodied and para athletes achieve their best.  See more details on his website at: www.gdsdressage.com